Ref:
Date:
Location:
Photographer:
workshop info / timetable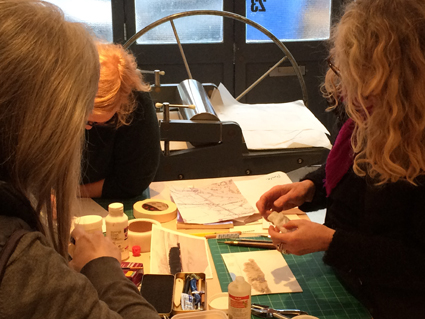 Collograph Workshop, April 2016
I hold my printmaking workshops at
eTCH studio23
in Havelock Walk, Forest Hill, London, SE23. This is a small studio, so the maximum number of participants is three – but this enables a fun, friendly and productive environment, with lots of technical support.
The workshops are aimed at beginners /or refreshers - so the perfect environment to try your hand at something new - or to brush up on old skills! Techniques include: collograph, mono print, drypoint, experimental relief and solar plate. All workshops include basic health and safety information. There is also access to a selection of printmaking books and information on a range of suppliers.
Workshops run from 10.30am – 4.30pm. There is the flexibility to tailor a workshop to suit specific dates, including weekends. Please contact the studio if you would like to arrange this. Refreshments are included but lunch is not, so BYO (small fridge available) or there are plenty of excellent local cafes that do reasonably priced food.
Note:
Printmaking can be messy process – if you attend a workshop wear an apron or old clothes! A notebook and camera are useful to have too.
To book a place or for any enquiries contact: etchstudio23@icloud.com
For prices and dates, click on titles below